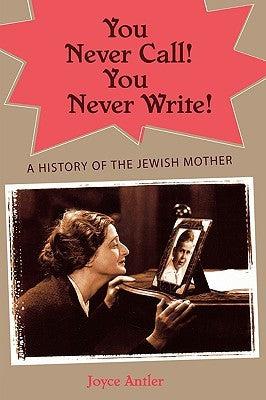 Joyce Antler
n You Never Call, You Never Write, Joyce Antler provides an illuminating and often amusing history of one of the best-known figures in popular culture--the Jewish Mother. Whether drawn as self-sacrificing or manipulative, in countless films, novels, radio and television programs, stand-up comedy, and psychological and historical studies, she appears as a colossal figure, intensely involved in the lives of her children.
Antler traces the odyssey of this compelling personality through decades of American culture. She reminds us of a time when Jewish mothers were admired for their tenacity and nurturance, as in the early twentieth-century image of the Yiddishe Mama, a sentimental figure popularized by entertainers such as George Jessel, Al Jolson, and Sophie Tucker, and especially by Gertrude Berg, whose amazingly successful Molly Goldberg ruled American radio and television for over 25 years. Antler explains the transformation of this Jewish Mother into a brassy-voiced, smothering, and shrewish scourge (in Irving Howe's words), detailing many variations on this negative theme, from Philip Roth's Portnoy's Complaint and Woody Allen's Oedipus Wrecks to television shows such as The Nanny, Seinfeld, and Will and Grace. But she also uncovers a new counter-narrative, leading feminist scholars and stand-up comediennes to see the Jewish Mother in positive terms. Continually revised and reinvented, the Jewish Mother becomes in Antler's expert hands a unique lens with which to examine vital concerns of American Jews and the culture at large.
A joy to read, You Never Call, You Never Write will delight anyone who has ever known or been nurtured by a Jewish Mother, and it will be a special source of insight for modern parents. As Antler suggests, in many ways we are all Jewish Mothers today.