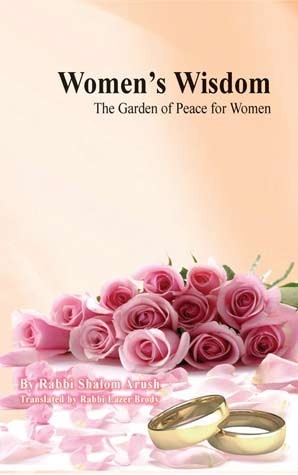 Rabbi Shalom Arush
His bestselling book, Garden of Emunah, has changed the lives of countless others, and now, Rav Shalom Arush has released his long-awaited book for women on how to create and preserve a happy, healthy marriage. Its counterpart, Garden of Peace for Men, was received with acclaim for its down-to-earth, honest, and sensitive approach, and these qualities shine from this volume for women as well
* How can a woman build up her marriage so that it is one of peace and tranquility?
* What is the real meaning of love?
* What is the role of the wife in the home?

Not only does this book present a beautiful, time-tested perspective on marriage, it also offers wisdom and insight on parenting, prayer, and motherhood. A vital read for every Jewish woman!

Translated from Hebrew to English by Rabbi Lazer Brody, this book is for women only, but women of all ages. Not limited to marital issues alone, Rabbi Arush teaches of whole life from the feminin perspective. The book is divided into eight sections, covering all aspects of a woman's life. Yes, marriage, but also finances, food, children, etc. etc. When King Solomon said, "Every wise woman buildeth her home : but the foolish plucketh it down with her hands." (Mishlei 14:1), it is this knowledge and wisdom that is refered to. Get it and read it.
415 pages, Paperback
First published January 1, 2009