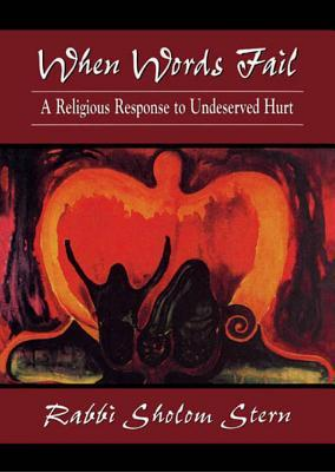 When Words Fail: A Religious Response to Undeserved Hurt is written for the pastoral counselor as well as for all those who accept the teachings of their respective religious traditions and the insights of the behavioral sciences as being indispensable tools in the healing process. As the author, Rabbi Sholom Stern, writes, "Anyone who brings with him or her the spiritual or sacramental teachings of his or her faith, combined with an orientation employed by counselors, psychologists, or psychotherapists, is functioning as a pastoral counselor."
In this profound and uplifting volume, Rabbi Stern demonstrates that the Jewish tradition and the classical teachings of Judaism as reflected in biblical and rabbinic literature, as well as in the legal codes and hasidic literature, contain insights into human nature anticipating those popularized by today's behavioral scientists. Themes such as loneliness, companionship, comfort, listening, silence, nonverbal communications, responding to tragedy, and reconciling ourselves with a God who appears at times to be deaf to our cries are discussed, with an emphasis on how traditional Jewish sources have treated these important issues.
Rabbi Sholom Stern has spent over thirty years in the rabbinate helping those who have been ill or have experienced the loss of a loved one. Rabbi Stern states, "I never cease to be amazed at how a kind and sensitive remark to the emotionally distressed has the capacity of touching one's soul and provides a measure of healing. There have been times when a gentle touch of another person's hand or a hug has been more efficacious in raising one's spirits than the most eloquent words that one has the capacity to articulate. Ultimately, the glory of God is revealed in the majesty of human kindness, which is the thesis of this book."