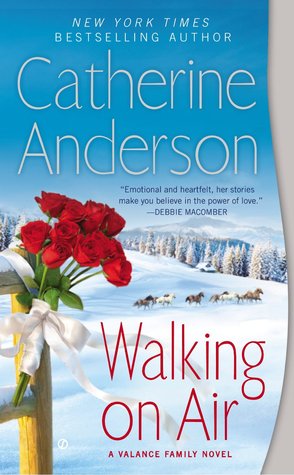 Catherine Anderson
Walking On Air
(Valance Family #1)
From "incomparable" (Fresh Fiction) author Catherine Anderson comes a novel of lost souls, second chances, and love everlasting....

Random, Colorado, is just another stop on the road for solitary gunslinger Gabriel Valance. Known for his drinking, gambling, and womanizing, he prefers to remain a stranger to anyone who crosses his path. But when an upstart gunslinger catches Gabe off guard and shoots him down, he regrets his empty, lonely life with his dying breath....

Golden-haired beauty Nancy Hoffman settled in Random after fleeing an abusive past. Caring for her younger sister and working in a hat shop help her to forge ahead, though she remains fearful and mistrustful of men—and marriage....

Their paths will cross when Gabe gets a second chance at life and a divine mission: to sweep Nancy off her feet, gain her trust, and convince her to believe in his love. And in doing so, the once-hardened cowboy may save himself....