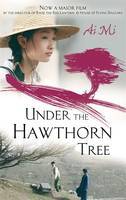 Ai Mi
Yichang municipality, Hubei province, China, early 1970s. High-school student Jingqiu is one of many educated urban youth sent to the countryside to be "re-educated" under a dictate from Chairman Mao. Jing's father is a political prisoner somewhere in China, and her mother, a former teacher branded as a "capitalist," is now reduced to menial work to support Jing and her two younger siblings.

When Jing arrives with a group at Xiping village in the Yangtze River's Three Gorges region, she meets geology student Jianxin, nicknamed "Old Three," who is the son of a high-ranking military officer, but whose mother committed suicide after being branded a "rightist." Despite their disparate social backgrounds and a political atmosphere that forbids the relationship, Jingqiu and Jianxin fall desperately in love. But their budding romance is cut short by fate...

A sensitive and searing love story, Under the Hawthorn Tree is sure to become an instant classic.