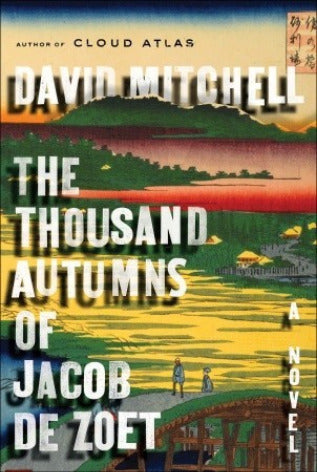 David Mitchell
The year is 1799, the place Dejima in Nagasaki Harbor, the "high-walled, fan-shaped artificial island" that is the Japanese Empire's single port and sole window onto the world, designed to keep the West at bay; the farthest outpost of the war-ravaged Dutch East Indies Company; and a de facto prison for the dozen foreigners permitted to live and work there. To this place of devious merchants, deceitful interpreters, costly courtesans, earthquakes, and typhoons comes Jacob de Zoet, a devout and resourceful young clerk who has five years in the East to earn a fortune of sufficient size to win the hand of his wealthy fiancée back in Holland.

But Jacob's original intentions are eclipsed after a chance encounter with Orito Aibagawa, the disfigured daughter of a samurai doctor and midwife to the city's powerful magistrate. The borders between propriety, profit, and pleasure blur until Jacob finds his vision clouded, one rash promise made and then fatefully broken. The consequences will extend beyond Jacob's worst imaginings. As one cynical colleague asks, "Who ain't a gambler in the glorious Orient, with his very life?"

A magnificent mix of luminous writing, prodigious research, and heedless imagination, The Thousand Autumns of Jacob de Zoet is the most impressive achievement of its eminent author.