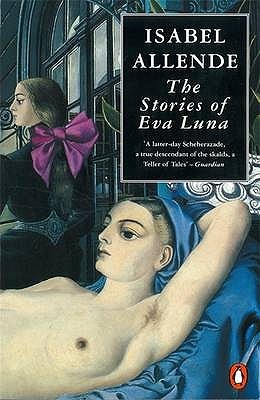 Isabel Allende
Isabel Allende is one of the world's most beloved authors. In 1988, she introduced the world to Eva Luna in a novel of the same name that recounted the adventurous life of a young Latin American woman whose powers as a storyteller bring her friendship and love. Retruning to this tale, Allende presents The Stories of Eva Luna, a treasure trove of brilliantly crafted stories.
Lying in bed with her European lover, refugee and journalist Rolf Carle, Eva answers hes request for a story "you have never told anyone before" with these twenty-three samples of her vibrant artistry. Interweaving the real and the magical, she explores love, vengeance, compassion, and the strenghts of women, creating a world that is at once poingnantly familiar and intriguingly new.
Rendered in the sumptuously imagined, uniquely magical style of one of the world's most stunning writers, The Stories of Eva Luna is the conerstone of Allende's work. It is not to be missed by anyone -- whether a devotee of Ms. Allende's oeuvre or a new acquaintance to her work.