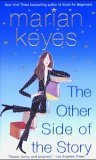 Marian Keyes
There are three sides to every story -- your side, their side and the truth.

Focused and hardworking, literary agent Jojo Harvey combines the body of Jessica Rabbit with the mind of a steel trap. While watching her back on the corporate ladder and keeping an eye out for the low-flying ceilings, she falls for her boss. Her married boss.

Lily Wright, one of Jojo's clients, is enjoying overnight success of her debut novel. But nagging doubts are surfacing and she's all too aware of the fragile nature of her happiness. Her second novel doesn't want to be written -- but she must deliver it. She's already spent the advance -- Anton, the 'Love of her Life' persuaded her to buy their dream home. And then there's the guilt about Gemma.

Events Organizer extraordinaire Gemma Hogan was Lily's best friend -- until Lily stole Anton -- also the 'Love of her Life'. Coping with the demands of her recently deserted mother, Gemma's social life is flat-lining -- a mortifying situation which makes for hilarious emails to a friend. Tales so funny, they come to the attention of literary agent Jojho Harvey who takes Gemma on as a client.

All learning the hard way that the nature of real love can come in many forms...