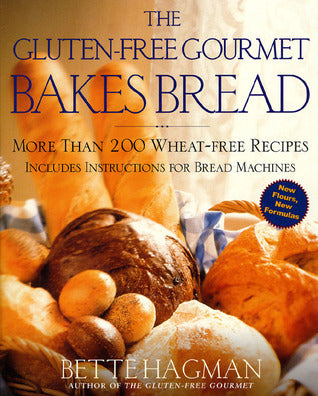 Bette Hagman
A breakthrough bread book by the unchallenged expert in gluten-free and wheat-free cooking.

In Bette Hagman's three earlier cookbooks, she worked with gluten-free flours that are safe for celiacs (those who are intolerant to gluten) and for those with wheat allergies, to create recipes that actually taste good. Knowing from her own hard-won experience that bread is the greatest loss for the wheat, oats, rye, or barley intolerant, she has experimented with exciting new bean-based flours and now devotes an entire book to breads. Here are yeast breads, yeast-free breads, muffins, rolls, buns, breakfast breads, and crackers-a veritable cornucopia to be made in the oven or the bread machine for people who cannot buy breads at a bakery or supermarket but must rely on their own kitchens to provide the staff of life.

Along with dozens of great recipes comes a medical foreword by Peter H. R. Green, M.D., of the College of Physicians and Surgeons of Columbia University; a beginner's guide to understanding and cooking with gluten-free flours; answers to commonly asked questions about baking with these flours; and a source list of where to buy gluten-free baking supplies. The Gluten-Free Gourmet Bakes Bread joins Hagman's three previous books, each recognized as the best in this special diet category.