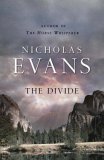 Nicholas Evans
The Divide was a place that seemed to want to keep itself secret. It perched concealed at the head of a split and tortuous valley that descended to another far grander. Montana had ritzier ranches, with finer cuisine and glitzier guests. But there were few, if any, so beautiful. Its guests came by word of mouth and returned again and again. ... more » And thus it was with the Cooper family. For the last two weeks in June, they always took cabins six and eight. This was their fourth visit and it would be their last, the vacation that would change their lives forever.

On a crystalline Montana morning, two backcountry skiers find the body of a young women embedded in the ice of a remote mountain creek. All through the night police work with floodlights and chainsaws to extract her. Identifying her, however, takes no time at all. Abbie Cooper is wanted for murder and acts of ecoterrorism, and her picture is on law enforcement computers all across the country. But how did she die? And what was the trail of events that led this golden child of a loving family so tragically astray?

A devastating journey of discovery that extends from the streets of New York to the daunting grandeur of the Rocky Mountains, The Divide tells the story of a family fractured by betrayal and struggling in search of lost happiness. It explores the pain we inflict on those we love the most, and charts the passions and needs, the dashed hopes and disillusionments that connect and divide all men and women.