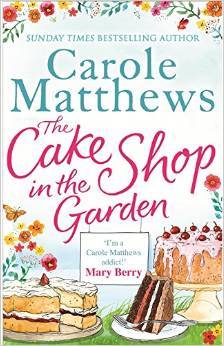 Carole Matthews
***CAROLE'S SENSATIONAL SEASONAL SEQUEL, CHRISTMAS CAKES & MISTLETOE NIGHTS, IS AVAILABLE NOW ***

What readers are saying about The Cake Shop in the Garden:

'A novel with heart'

'Brilliant. A relaxing book to read'

'I loved reading every part of this book and didn't want it to end'

'I could not put this book down'

'Would make a great film!'

'Carole at her very best'

The scrumptious Cake Shop in the Garden is Carole Matthews' bestselling book ever! Perfect for fans of Milly Johnson and Jill Mansell.

Fay Merryweather runs her cake shop from her beautiful garden. She whips up airy sponges and scrumptious scones, while her customers enjoy the lovely blossoms and gorgeous blooms. Looking after the cake shop, the garden and her cantankerous mother means Fay is always busy but she accepts her responsibilities because if she doesn't do all this, who will?

Then Danny Wilde walks into her life and makes Fay question every decision she's ever made.

When a sudden tragedy strikes, Fay's entire world is thrown off balance even further and she doesn't know which way to turn. Can Fay find the strength to make a life-changing decision - even if it means giving up the thing she loves the most? Life, love and family are about to collide in The Cake Shop in the Garden.
422 pages, Paperback
First published January 8, 2015