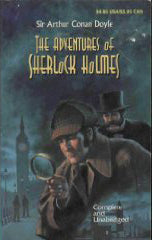 Sir Arthur Conan Doyle
The Adventures of Sherlock Holmes is the series of short stories that made the fortunes of the Strand magazine, in which they were first published, and won immense popularity for Sherlock Holmes and Dr Watson. The detective is at the height of his powers and the volume is full of famous cases, including 'The Red-Headed League', 'The Blue Carbuncle', and 'The Speckled Band'. Although Holmes gained a reputation for infallibility, Conan Doyle showed his own realism and feminism by having the great detective defeated by Irene Adler - the woman - in the very first story, 'A Scandal in Bohemia'.
The editor of this volume, Richard Lancelyn Green is editor of The Uncollected Sherlock Holmes and The Further Adventures of Sherlock Holmes. With John Michael Gibson, he compiled the Soho Series Bibliography of A. Conan Doyle.