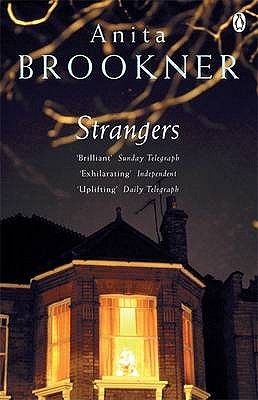 Anita Brookner
'He was haunted by a feeling of invisibility, as if he were a mere spectator of his own life, with no one to identify him in the barren circumstances of the here and now.'

Paul Sturgis is a retired banker manager who lives alone in a dark little flat. He walks alone and dines alone, seeking out and taking pleasure in small exchanges with strangers: the cheerful Australian girl who cuts his hair, the lady at the drycleaners. His only relative, and only acquaintance, is a widowed cousin by marriage - herself a virtual stranger - to whom he pays ritualistic visits on a Sunday afternoon. Trying to make sense of his current solitary state, and fearing that his destiny may be to die among strangers, Sturgis trawls through memories of his failed relationships and finds himself longing for companionship, or at the very least a conversation.

But then a chance encounter with a stranger - a recently divorced and demanding younger woman - shakes up his routine and when an old girlfriend appears on the scene, Sturgis is forced to make a decision about how (and with whom) he wants to spend the rest of his days . . .

'Each book is a prayer bead on a string, and each prayer is a secular, circumspect prayer, a prayer and a protest and a charm against encroaching night' Hilary Mantel, Guardian

'No one writes with more skill and honesty about the human condition and this book is possibly her finest' Julie Myerson, Observer

'A novel of great stylistic beauty and psychological truth. As great a reflection on fear and regret as Philip Larkin or Beckett' Guardian

'Like Graham Greene, she draws the reader into a world that has a character and signature all of its own . . . Strangers is a novel of sober brilliance, and the unerring, unflinching Brookner is still a much underestimated novelist' Helen Dunmore, The Times

Anita Brookner was born in south London in 1928, the daughter of a Polish immigrant family. She trained as an art historian, and worked at the Courtauld Institute of Art until her retirement in 1988. She published her first novel, A Start in Life, in 1981 and her twenty-fourth, Strangers, in 2009. Hotel du Lac won the 1984 Booker Prize. As well as fiction, Anita Brookner has published a number of volumes of art criticism.
208 pages, Hardcover
First published December 2, 2009