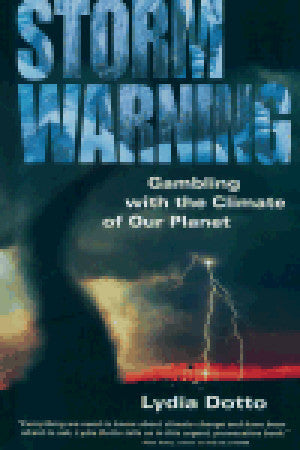 Lydia Dotto
The Ice Storm of 1998. The flooding of Manitoba of 1997. Wherever you live, it's likely you've experienced some extreme weather lately. A recent report from the Red Cross stated that natural catastrophes in 1998 has wreaked the most havoc on record, and warned that a series of "super-disasters" could be imminent. What's behind all this stormy weather?

In Storm Warning, science writer Lydia Dotto shows there's strong evidence our climate is changing due to human interference, and that the events of recent years are just a dress rehearsal for dramatic changes in the earth's climate.

Climate conferences like those held in Rio in 1992 and Kyoto in 1997 were supposed to set the world on a course for change. Instead, they have led to political squabbles, watered-down resolutions and a disturbing failure to reduce the greenhouse gas emissions that have been targeted as the main culprit in creating the global warming trend.

Storm Warning illustrates the dire consequences of delay and inaction on both the personal and political fronts. In the climate change game the stakes are disturbingly high -- with the very future of life on our planet at risk.