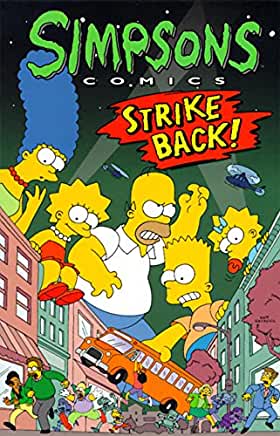 Matt Groening
It's another sidesplitting series of adventures as America's most popular cartoon family returns to the big colorful comic pages in this latest addition to the bestselling Simpsons anthologies.
In Simpsons Comics Strike Back, Groening fans are treated to another laugh-fest as they catch up on the latest antics of this irrepressibly irreverent family. First, it's a yuck-filled yarn of yore when Grampa Simpson reminisces about the good old days of the Depression. Then Patty and Selma take to the air as flight attendants, and the friendly skies will never be the same. Next, the network wars have come to town, and the big boys are running scared from the BBC -- the Bart Broadcasting Channel. Then last, but certainly not least, it's an epic brawl as the Presidential Fitness Program dispatches McBain to Springfield to whip the cholesterol-clogged town into shape. Between him and success, however, is hungry Homer Simpson.
When the TV show just isn't enough, fans turn to the comic books to satiate their Simpsons addiction. A veritable bonanza of the characteristic wit that made the series an international hit, this anthology will be a treasured gift for all fans of Bart, Lisa, Maggie, Homer and Marge.
First published December 1, 1994