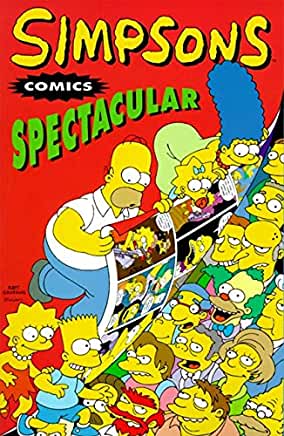 Matt Groening
Right this way, ladies and gentlemen, and welcome to another tasty all-you-can-eat collection of Simpsonoid comical funnies, written, penciled, inked, and simmered just for you by your favorite demented cartoon chefs at Bongo Comics. We've got a special meaty comic book stew du jour a-bubblin' away on the stove for you this time, full of rich Barty goodness, thick Homerish chunks, and sinewy Lisa-esque fibers. And, by popular request, we've added a scoop or two of spicy Maggie-renos, along with our usual heaping dollops of authentic Snowball II furballs, and, to stretch the meal even further, a jumbo box full of Santa's Little Helper helper.
A Milhouse salad, of course, comes with every meal at no extra charge. Krustyburgers and Sideshow Mel fries also are available, but the extra-bitter Sideshow Bob soup is off the menu—at least temporarily.
And be sure to save room for dessert! You haven't lived 'til you've tasted a big old gooey bowl of Flanders-style flan, or munched on Ms. Krabappel's famous crabapples, or chewed on a platter full of hot itchy cakes drenched in creamy Scratchy sauce.
And if you clean your plate you get a special surprise! (The surprise being the surprised look on our faces that you actually cleaned your plate!)
First published June 24, 1995