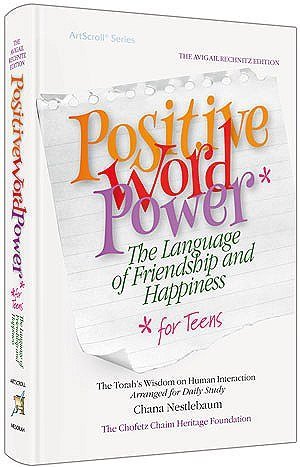 Chana Nestlebaum
Friends, classmates, parents, siblings... they're what we cherish most in life. Now you can learn how to protect your greatest treasure from damage, keeping your relationships shining bright. It's all in the power of the words you speak. Learn the answers to such vital everyday questions as: Is a joke always funny? Is criticism always constructive? Does praise always build others up? How can I deal kindly with someone who annoys me? What if someone is not my type? How should I express anger?
In 2009, The Chofetz Chaim Heritage Foundation produced Positive Word Power, based on "The Power of Words" by Rabbi Zelig Pliskin, which shone a bright light on the issue of ona'as devarim — hurting others with words. This daily learning sefer has been taken up by thousands of Jewish men and women who have learned how to recognize and change those thoughts and character traits that spur nice people to say hurtful things.
Now The Chofetz Chaim Heritage Foundation brings these priceless lessons to you, teenage readers, through practical scenarios, strategies and discussion questions that reflect the unique challenges of your life. Positive Word Power for Teens will sensitize you to the impact of words you use and hear every day and help you shed negative habits.
Through our words, each of us has the power to paint for ourselves a bright and loving world, or a dark and lonely one. With an investment of just a few minutes a day, you can learn how to choose the beautiful hues of kindness and sensitivity, and paint a world you'll be happy to live in today and for the rest of your life!