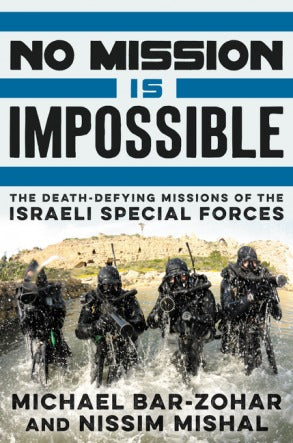 No Mission Is Impossible: The Death-Defying Missions of the Israeli Special Forces
Michael Bar-Zohar and Nissim Mishal
A riveting follow-up to Michael Bar-Zohar and Nissim Mishal's account of the most memorable missions of the Mossad, No Mission is Impossible sheds light on some of the most harrowing, nail-biting operations of the Israeli Special forces
Mossad: The Greatest Missions of the Israeli Secret Service brought to life the gripping, legendary missions of Israeli's national intelligence force like never before, capturing the danger of the operations and the bravery of the operatives who risked everything to complete their assignments.
Now, in No Mission Is Impossible, Michael Bar-Zohar and Nissim Mishal return with the intensely absorbing, fast-paced story of thirty of the boldest missions of the Israeli Special Forces. Bar-Zohar and Mishal depict in electrifying detail major battles, raids in enemy territory, and death-defying commando missions while also sharing the personal stories of both soldiers and top commanders, revealing their hopes and fears. The stories are often of victories, but sometimes also of immense failures, and run side-by-side with the accounts of the lives and accomplishments of some of Israel's most prominent figures, including Moshe Dayan, Ariel Sharon, the brothers Netanyahu, Ehud Barak, and Avigdor Kahalani. We follow Sharon, from his near death at the battle of Latrun in 1948, to his crossing Suez in 1973; we are with Ehud Barak, dressed in women's clothes, when he commands a daring raid in Beirut in 1973, and then when he is elected Prime Minister in 1999. Besides recounting the mesmerizing, high-stakes missions, No Mission Is Impossible includes an interview in each chapter with a major figure who took part in the mission discussed, including some of the most prominent players in Israeli politics, and stunning photographs, many published for the first time.
Captivating and eye-opening, No Mission Is Impossible is essential reading for anyone interested in understanding how these crucial missions shaped Israel, and the world at large.