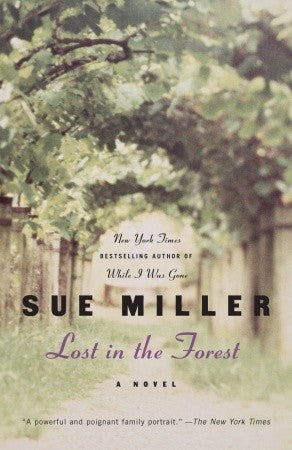 Sue Miller
For nearly two decades, since the publication of her iconic first novel, The Good Mother, Sue Miller has distinguished herself as one of our most elegant and widely celebrated chroniclers of family life, with a singular gift for laying bare the interior lives of her characters. In each of her novels, Miller has written with exquisite precision about the experience of grace in daily life–the sudden, epiphanic recognition of the extraordinary amid the ordinary–as well as the sharp and unexpected motions of the human heart away from it, toward an unruly netherworld of upheaval and desire. But never before have Miller's powers been keener or more transfixing than they are in Lost in the Forest, a novel set in the vineyards of Northern California that tells the story of a young girl who, in the wake of a tragic accident, seeks solace in a damaging love affair with a much older man.

Eva, a divorced and happily remarried mother of three, runs a small bookstore in a town north of San Francisco. When her second husband, John, is killed in a car accident, her family's fragile peace is once again overtaken by loss. Emily, the eldest, must grapple with newfound independence and responsibility. Theo, the youngest, can only begin to fathom his father's death. But for Daisy, the middle child, John's absence opens up a world of bewilderment, exposing her at the onset of adolescence to the chaos and instability that hover just beyond the safety of parental love. In her sorrow, Daisy embarks on a harrowing sexual odyssey, a journey that will cast her even farther out onto the harsh promontory of adulthood and lost hope.

With astonishing sensuality and immediacy, Lost in the Forest moves through the most intimate realms of domestic life, from grief and sex to adolescence and marriage. It is a stunning, kaleidoscopic evocation of a family in crisis, written with delicacy and masterful care. For her lifelong fans and those just discovering Sue Miller for the first time, here is a rich and gorgeously layered tale of a family breaking apart and coming back together again: Sue Miller at her inimitable best.