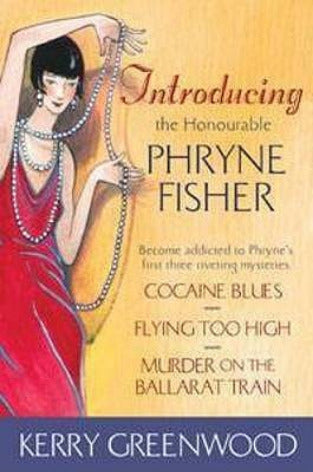 From the author of the bestselling Phryne Fisher series comes a book set featuring Miss Fisher's first three adventures These three rollicking murder mystery novels are combined in a single, convenient package.
"Phryne can not get enough of adventure and the reader can not get enough of Phryne."--Deadly Pleasures
Perfect for Fans of Rhys Bowen and Jacqueline WinspearInspired the Netflix show Miss Fisher's Murder MysteriesMovie Currently Streaming on Acorn TVThe ideal gift for introducing books in the Phryne Fisher Series
Unflappable, unconventional, and uninhibited, the Honourable Phryne Fisher leaves the tedium of English high society for Melbourne, Australia, and never looks back. In her first three adventures, Phryne handles everything--danger, excitement, and love--with panache and flair, and still finds time for discreet dalliances and delicious diversions.
In COCAINE BLUES, the London season is in full fling at the end of the 1920s, but Phryne cannot face any more flower arranging, polite conversation with retired colonels or dancing with weak-chinned men. She decides it might be rather amusing to try her hand at being a lady detective in Melbourne, Australia. From the time she books into the Windsor Hotel, Phryne is immediately embroiled in exotic and erotic mystery.
In FLYING TOO HIGH, Phryne handles a murder, a kidnapping, and the usual array of beautiful young men who cluster around her with style and consummate ease--and all before it's time to adjourn to the Queenscliff Hotel for breakfast. Whether she's flying planes, clearing a friend of homicide charges or searching for a kidnapped child, she employs the same dash and elan with which she drives her beloved red Hispano-Suiza.
In MURDER ON THE BALLARAT TRAIN, the glamorous Phryne, accompanied by her loyal maid, Dot Williams, decides to travel to the country by train, but the last thing she expects is to have to use her trusty Beretta .32 to save their lives. Soon a restful country sojourn turns into the stuff of nightmares: a young girl who can't remember anything, rumours of vile white slavery and the body of an old woman missing her emerald rings.