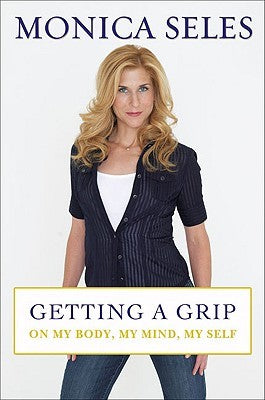 Monica Seles
For those of you tuned into this past season's Dancing with the Stars, it's hard to believe that spectacularly fit former tennis champion Monica Seles struggled with binge-eating and depression.

Getting a Grip chronicles Monica's success on the tennis circuit where, at age sixteen, she became the youngest winner in French Open history. For three years she dominated the tour, racking up eight Grand Slam titles, and charming the media at post-match conferences with her trademark giggle. She seemed unstoppable until a deranged Steffi Graf fan plunged a knife into her back during a match in Hamburg and turned her life upside down. Her injuries healed but the emotional trauma was deep. With no support from the WTA and her number-one ranking falling, Monica sunk into a depression. Hiding from the media and disappearing from the tennis world, she turned to food for comfort. She spent more than two years in seclusion, trying to fight off the fog of despair.

Back in the public eye but far from recovered, she continued the battle against herself—grueling six-hour workouts were sabotaged by secretive late-night binges—and she was assaulted with criticism about her weight from her trainers, nutritionists, and, most brutally, the press. Playing with an extra thirty pounds and devastated after losing her father/coach to cancer, she was never able to regain her former dominance on tour.

After an excruciating injury forced her to take time off from tennis in 2003, Seles embarked on her own journey. She abandoned the arduous workouts and the punitive diets. As she uncovered the painful emotional reasons that had been the trigger for her binge-eating, she finally found the peace and balance she had been searching for.

Monica Seles's determination, amazing talent, and touching vulnerability make her story both incredibly human and inspiring. By sharing her own narrative, she hopes to motivate other people to take control of their lives and their own happiness.