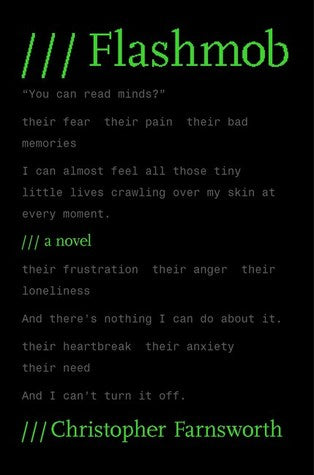 Christopher Farnsworth
Flashmob
(John Smith #2)
Gifted troubleshooter John Smith, introduced in the acclaimed thriller Killfile, must take down a shadowy figure who has weaponized the internet, using social media to put a price on the heads of his targets in this intense, unstoppable thriller from the author reviewers have compared to Michael Crichton, Brad Thor, and James Rollins

"If you're looking for action and adventure with a supernatural twist, Farnsworth's your man."—New York Post

Working for the Los Angeles-based clandestine organization, One Percent, John Smith cleans up the messes of those rich enough to afford him. But he's no ordinary fixer. Smith is a man of rare gifts, including the ability to read minds. Arriving at the wedding of Kira Sadeghi, a reality television celebrity he recently saved from kidnappers, Smith witnesses a group of gunmen open fire, hitting the bride and others. Though he's unarmed, Smith cripples one of the killers and is able to pry one word from his mind: "Downvote."

Eager to learn more, Smith hacks into the brain of an FBI agent investigating the attack to discover the Bureau has been investigating a nefarious new threat called "Downvote," an encrypted site on the "dark net" that lists the names of celebrities and offers a hefty bounty for anyone who can kill them—unleashing an anonymous and deadly flashmob with a keystroke.

Finding a mastermind on the internet is like trying to catch air—unless you're John Smith. Motivated by money and revenge, he traces a series of electronic signatures to a reclusive billionaire living at sea, accompanied by a scary-smart female bodyguard who becomes Smith's partner in his quest. The hunt for their prey will lead from Hong Kong to Reykjavik to a luxury gambling resort deep in the Laotian jungle. Yet always this criminal mastermind remains one step ahead.

The only way Downvote's creator can stop Smith is to kill him . . . because while this diabolical genius can run, there's no hiding from a man who can read minds.