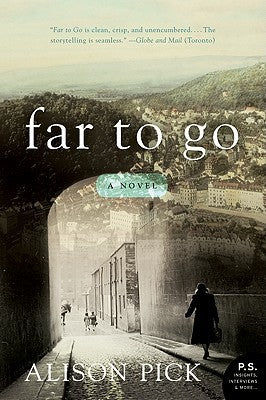 Alison Pick
The Man Booker Prize finalist Far to Go by acclaimed author Alison Pick is historical fiction at its very best.

When Czechoslovakia relinquishes the Sudetenland to Hitler, the powerful influence of Nazi propaganda sweeps through towns and villages like a sinister vanguard of the Reich's advancing army. A fiercely patriotic secular Jew, Pavel Bauer is helpless to prevent his world from unraveling as first his government, then his business partners, then his neighbors turn their back on his affluent, once-beloved family. Only the Bauers' adoring governess, Marta, sticks by Pavel, his wife, Anneliese, and their little son, Pepik, bound by her deep affection for her employers and friends. But when Marta learns of their impending betrayal at the hands of her lover, Ernst, Pavel's best friend, she is paralyzed by her own fear of discovery—even as the endangered family for whom she cares so deeply struggles with the most difficult decision of their lives.

Interwoven with a present-day narrative that gradually reveals the fate of the Bauer family during and after the war, Far to Go is a riveting family epic, love story, and psychological drama.