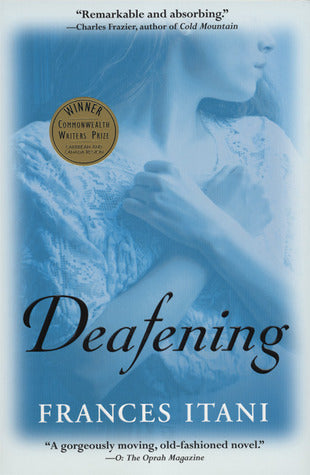 Frances Itani
At the age of five, Grania-the daughter of hardworking Irish hoteliers in smalltown Ontario-emerges from a bout of scarlet fever profoundly deaf and is suddenly sealed off from the world that was just beginning to open for her. Her guilt-plagued mother cannot accept her daughter's deafness. Grania's saving grace is her grandmother Mamo, who tries to teach Grania to read and speak again. Grania's older sister, Tress, is a beloved ally as well-obliging when Grania begs her to shout words into her ear canals and forging a rope to keep the sisters connected from their separate beds at night when Grania fears the terrible vulnerability that darkness brings. When it becomes clear that she can no longer thrive in the world of the hearing, her family sends her to live at the Ontario School for the Deaf in Belleville, where, protected from the often-unforgiving hearing world outside, she learns sign language and speech.

After graduation Grania stays on to work at the school, and it is there that she meets Jim Lloyd, a hearing man. In wonderment the two begin to create a new emotional vocabulary that encompasses both sound and silence. But just two weeks after their wedding, Jim must leave home to serve as a stretcher bearer on the blood-soaked battlefields of Flanders.

During this long war of attrition, Jim and Grania's letters back and forth-both real and imagined-attempt to sustain their young love in a world as brutal as it is beautiful. Frances Itani's depiction of a world where sound exists only in the margins is a singular feat in literary fiction, a place difficult to leave and even harder to forget.

A magnificent tale of love and war, Deafening is finally an ode to language-how it can console, imprison, and liberate, and how it alone can bridge vast chasms of geography and experience.