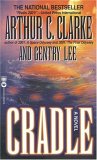 Arthur C Clarke
In 1994, the Marines test a new missile. After launch it mysteriously disappears. If it reaches civilian areas they'll be in big trouble. Carol Dawson, a journalist, is alerted by an unusual sight of whales in the Miami area & decides to write about it.
Armed with equipment provided by her friend, Dr. Dale Michaels from the Miami Oceanographic Institute, she goes to investigate the rumors of a missing missile that could be behind the mysterious whale behavior. She hires the services of Nick Williams & Jefferson Troy, boat owners, so she can get to the Mexican Gulf to investigate.
They find an unknown artifact. They have doubts about its nature, hoping it's part of a lost treasure. Old friends of Williams & Troy notice their discovery & want to steal it.
In the story's background, the authors describe a submarine snake civilization on a planet called Canthor, & how they struggled to stay alive despite threats to their ecosystem. It's revealed that the artifact is actually a cradle that contains seeds with altered superhumans extracted from Earth millions of years ago & altered so they could live with other species--including the submarine snakes--on Earth. The spaceship that carries the cradle is manned by robots/cyborgs & has hidden itself on the ocean floor to make repairs.
Dawson, Williams & Troy are asked to gather materials so the ship can be repaired & return to its mission. The ship...