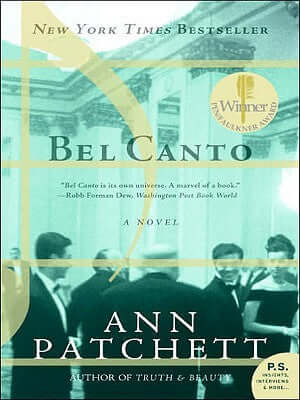 Ann Patchett
Somewhere in South America, at the home of the country's vice president, a lavish birthday party is being held in honor of Mr. Hosokawa, a powerful Japanese businessman. Roxanne Coss, opera's most revered soprano, has mesmerized the international guests with her singing. It is a perfect evening - until a band of gun-wielding terrorists breaks in through the air-conditioning vents and takes the entire party hostage. But what begins as a panicked, life-threatening scenario slowly evolves into something quite different, as terrorists and hostages forge unexpected bonds and people from different countries and continents become compatriots.
Without the demands of the world to shape their days, life on the inside becomes more beautiful than anything they had ever known before. At once riveting and impassioned, the narrative becomes a moving exploration of how people communicate when music is the only common language. Friendship, compassion, and the chance for great love lead the characters to forget the real danger that has been set in motion and cannot be stopped.
Ann Patchett has written a novel that is as lyrical and profound as it is unforgettable. Bel Canto engenders in the reader the very passion for art and the language of music that its characters discover. As a reader, you find yourself fervently wanting this captivity to continue forever, even though you know that real life waits on the other side of the garden wall. Bel Canto is a virtuoso performance by one of our best and most important writers. It is a no novel to be cherished.