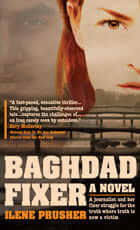 Ilene Prusher
Nabil al-Amari is an English teacher in Baghdad, in Saddam's Iraq, when a chance encounter with Samara Katchens, an American journalist covering the war, changes his life forever. It is April 2003 and American and British forces have recently invaded Iraq.

Samara, or Sam for short, is ambitious, cynical and determined. Nabil is both fascinated and bewildered by her, and he's keen to show her things she doesn't notice in her rush to cover the news. She is pushed by her editor to seek concrete proof for a story concerning payments for false documents – a practice which breaks all journalistic codes of ethics – "as if truth were so hard in that way, like rocks and concrete". In Iraq it is rarely so.

As Sam single-mindedly pursues this story, she discovers a chasm between her editor's expectations and the reality she faces in a city torn apart by war and conflicting loyalties. And in her determination to uncover the truth, she takes one gamble too many, endangering herself, Nabil and his family.