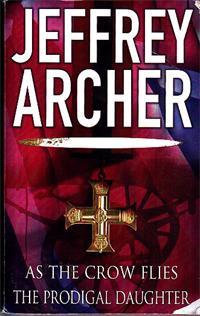 Jeffrey Archer
As the Crow Flies
Growing up in the slums of East End London, Charlie Trumper dreams of someday running his grandfather's fruit and vegetable barrow. That day comes suddenly when his grandfather dies leaving him the floundering business. With the help of Becky Salmon, an enterprising young woman, Charlie sets out to make a name for himself as "The Honest Trader". But the brutal onset of World War I takes Charlie far from home and into the path of a dangerous enemy whose legacy of evil follows Charlie and his family for generations.

The Prodigal Daughter
With a will of steel, Polish immigrant Florentyna Rosnovski is indeed Abel's daughter. She shares with her father a love of America, his ideals, and his dream for the future. But she wants more to be the first female president.

Golden boy Richard Kane was born into a life of luxury. The scion of a banking magnate he is successful, handsome, and determined to carve his own path in the world-and to
build a future with the woman he loves.

With Florentyna's ultimate goal only a heartbeat away, both are about to discover the shattering price of power as a titanic battle of betrayal and deception reaches out from the past-a blood feud between two generations that threatens to destroy everything Florentyna and Richard have fought to achieve.