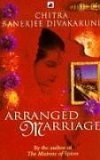 Chirta Banerjee Divakaruni
A beautiful and poignant, award-winning collection which focuses on immigrants from India caught between two worlds.

For the women brought to life in these stories, the possibility of change, of starting anew, is at once terrifying and filled with promise, like the ocean that separates them from their homes in India.For them, independence is a mixed blessing.It means walking the tightrope between old treasured beliefs and surprising newfound desires.

From the story of a young bride whose fairy-tale vision of California is shattered when her husband is murdered, forcing her to face the future on her own, to a proud middle-aged divorcee determined to succeed in the new world, Divakaruni creates eleven unforgettable portraits of women on the verge of transformation.