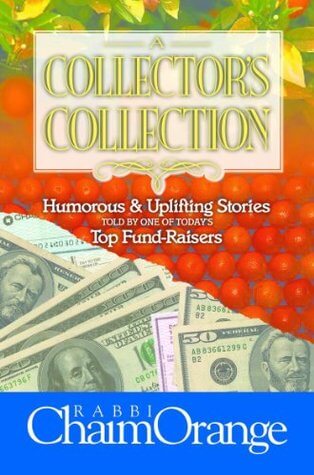 A Collector's Collection: Humorous & Uplifting Stories Told by One of Today's Top Fund-Raisers
Rabbi Chaim Orange
For the past thirty-five years, Rabbi Chaim orange has traveled the world as an unofficial goodwill ambassador for the yeshiva he represents. His job is to reach the people who want to give so that they can get the most for their charity dollar by supporting Torah.
"It's a full-time job," says Rabbi Orange, "that brings me in contact with every type of Jew you can imagine - and some you can't.
"I'm not a writer. In fact, I hate to write. But I wanted to write this book for two main reasons: (1) to clear up common misconceptions about my life of work, and )2) to show you the other side of the fund-raising coin (pun intended).
"A lot of the stories and anecdotes in this book happened to me. I have also included hand-picked stories, each a gem, to show how Torah giants in recent time and in previous eras viewed the give and take of collecting (pun also intended).
"I hope you enjoy my collection. And yes, my name really is Chaim Orange (but I try not to put the squeeze on anyone)."